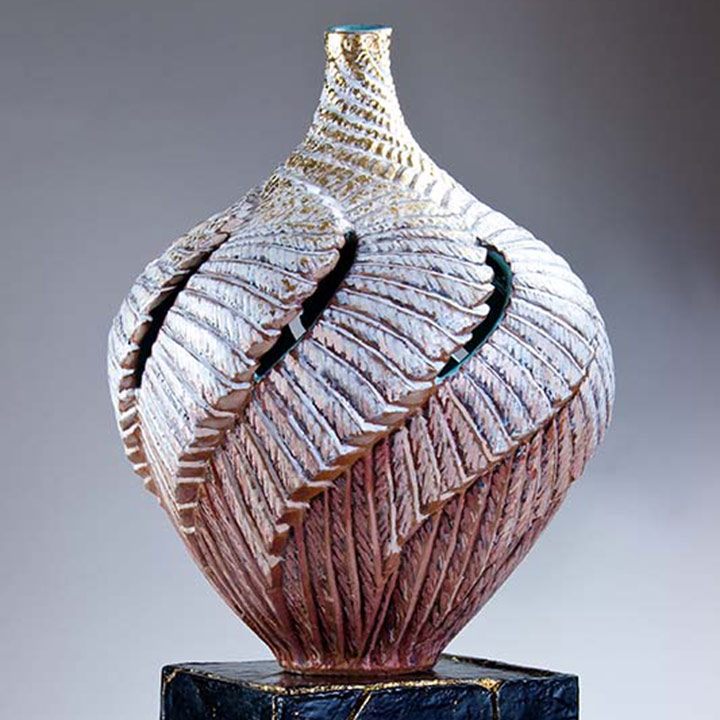 Two new pieces in "Give Me Wings" at FRANK
Moths and butterflies, hummingbirds, crows, blue jays, cicadas and katydids; ladybugs and June bugs, airplanes, helicopters, gliders, parachutes, rockets, bats and batman, owls, angels, bees, dragons and dragonflies, pegasus and icarus. These things have captured our minds and our hearts. Humans have always reached to the skies – we love the creatures that fly, and try our hardest to follow them."
This is the gist of FRANK'S current show, "Give Me Wings," that will be up through September 9. I have two new pieces in the show. "He Becomes an Angel" is a meditation on the fragile nature of the body and the transformation of the soul. With glaze on the inside of the vessel form, it is painted on the outside with wax encaustic and finished with 24 carat gold leaf.
Another new piece in FRANK'S show is the second in my "Flying to the Inside" series. This one features water at the bottom, with bird forms flying up, into the "inside". You can read more about both of these pieces in the New Work section of my site.
Another wonderful exhibition by both FRANK artists and invitees, you can check out photos of the show at FRANK'S Facebook page. And don't miss Mark Elliot's Featured Artist section at the back of the gallery. Using different media, Mark just keeps surprising us with his varied and interesting takes on his signature style.