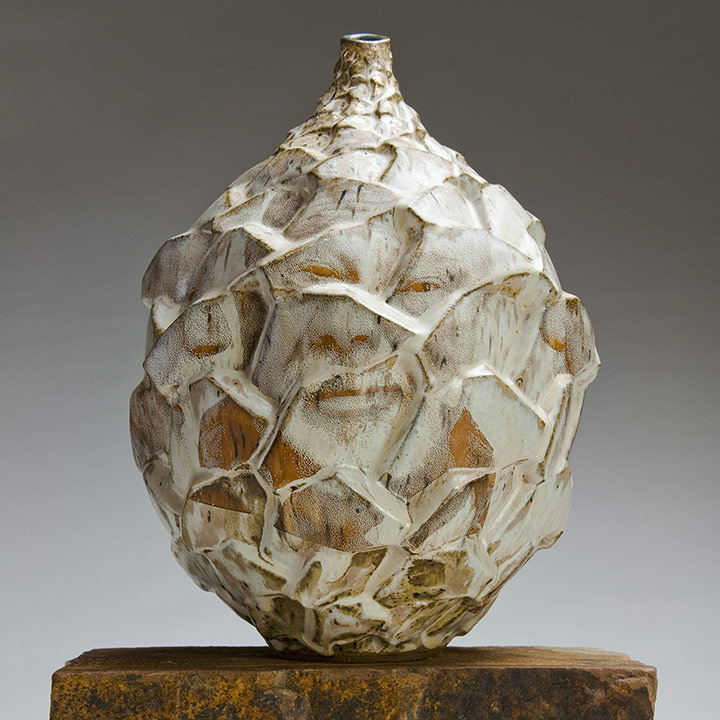 This is the first piece completed in what I hope will be an installation of 20 to 30 unique artworks titled "Refracted Journeys". My work is hybrid, somewhere between craft and fine art. I use the vessel form not because I am a potter, but because vessels have an inner dimension. An enclosed form is extroverted; it displaces space and interacts with its environment. Imagine the same enclosed form but with a small entrance to an interior. The form suddenly becomes introverted, self-contained; it has an existential presence connected to its mysterious inner space. In the ancient world, vessels were used functionally, but also metaphorically in ritual and literature, employing some of these same ideas of interiority. Looking back to these antecedents, I treat the metaphor of the inner as a resonant subject matter for non-functional ceramic art pieces. My vessels are about their insides as well as their sculpted outsides. Implied are the dichotomies between the inner and outer, the hidden and the seen. Cutting through the wall and changing the angles of the various connecting planes in my complex tessellated patterns, I create deep relief, a dynamic movement that leads the eye to the inside of the vessel.
"Refracted Journeys" will add the element of portraiture and the head to my conceptual understanding of the vessel form. It will be an installation of anonymous three-dimensional portraits in ceramic and stone. By firing on to the glazed surface simple photographically reproduced laser decals of high contrast dots, I am creating three-dimensional portraits that fragment to fit the varying patterns on each vessel. All will be on similarly-sized and glazed vessels, will have gold luster at the top, and will rest on horizontally-placed rectangular stones that suggest shoulders. This project expands the "inside" to the head and our notion of consciousness, implying the refracted nature of the psyche and its journey (you can see larger images at the gallery or the New Work page).
Join me at my studio during the OCAG Open Studio Tour the first two weekends of November and get a look at the beginning of this new project.