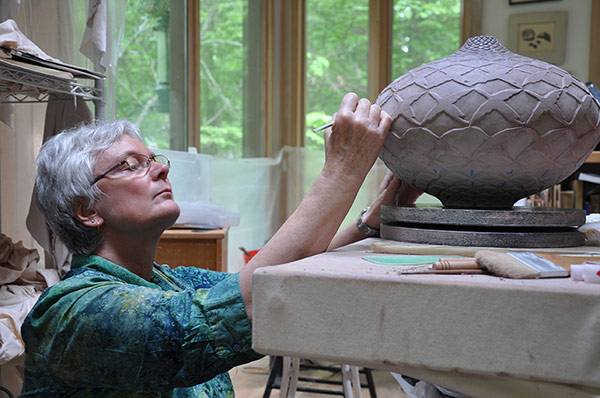 Originally from the Northwest with a B.A. from Stanford University, I have painted, published illuminated books, and lived and traveled extensively in Asia. Now working primarily in ceramics, I draw images from the deep well of past experience, always starting from a strong "mind's eye" vision.
Conceptually, my work references the use of clay and the vessel form as a metaphor in ancient art and literature to convey metaphysical meaning. But the sensibility of my work is really neither traditional nor modern.
Connections between clay and the vessel form, and notions of creation and transcendence are found in ancient East Asia, India, in Sumeria and Mohenjodaro, and in the Middle East. These images show up in Hindu, Taoist, and early Sufi literature. And the Bible depicts God as forming humans from clay, the ultimate potter. While the ancients used functional vessels as literary or ritual metaphor, I use these ancient metaphors as resonant subject matter for non-functional art pieces.
This is a very nice short video put together by My Modern Met. They feature work by various artists and creative people doing all sorts of interesting work. Thank you for featuring me, My Modern Met! @mymodernmet
Here's a short video of me in my studio, filmed on my iPhone by my son, Rhys Ernst. It was filmed for the 2020 Orange County Artists Guild Virtual Studio Tour that took place in lieu of our usual Open Studio Tour. Thank you, Rhys!
My ceramic pieces are as much about their inside as they are about their sculpted outside. Implied are the dichotomies between the inner and outer, between that which is hidden and that which is seen, between the esoteric and the exoteric, between the soul and the body. I've created "Metaphysical Pots" that feature water both inside and outside, becoming metaphorically both the Water of Life and the Infinite Ocean, symbolizing the continuous process between creation and transcendence. Other pieces include shapes that repeat in a pattern that follows the form of the vessel. It is a "bio-geometry" that leads the eye back to the inside of the vessel, a "Jacob's Ladder" that leads not just up but in.
I continue to push the limits of my medium. Using sculptural techniques, I cut through the wall of the pot to get more depth and dynamic movement, taking apart thrown vessels and reconfiguring them in new ways. Sometime I add a carved layer to the much-altered and deeper relief. I may layer as many as 7 or 8 glazes on my outside surfaces, in a particular order. I've experimented with wax encaustic as an alternative to a glazed finish, and also incorporated lusters into the glaze surfaces, as well as using gold leaf on wax. My pieces are large and labor intensive, mostly on stoneware with its possibilities for rich colors and textures, and consist of one-of-a-kind pieces, though some are variations on a theme.
In addition to my ceramic work and my two published illustrated books, I have an article titled "The Problem of Islamic Art", published in Muslim Networks: From Hajj to Hip Hop, (UNC Press, 2005) and I've also been invited to lecture on art topics in Malaysia, Kuwait, and Qatar. A catalog of my ceramic work was published by the Turkish Women's Cultural Association in Istanbul in December, 2009. I was a founding member of FRANK Gallery in Chapel Hill, and served as Chair of the Board of the Orange County Artist Guild for four years.
My work is represented by FRANK Gallery (Chapel Hill); Galerie Wolfsen (Aalborg, Denmark); Duane Reed Gallery (St. Louis); and The Artling (Singapore).
Judith Ernst
December, 2019